The Program
THE PROGRAM is simple, we breed high accuracy progeny proven sires to daughters of high accuracy sires and create cattle that with every generation improve and create value for our customers and ultimately the beef industry. We believe it is not only our role but our responsibility as a seedstock provider to be a student of the industry and utilize every tool available to breed the most predictable, reliable and profitable cattle in the business.
The Plan
THE PLAN: We try to be very disciplined in our approach to be good stewards of the cattle and the land but also good stewards of our customers. We strive every day to provide the most elite customer service in the industry. This is not something that is difficult to fulfill we simply "do what is right".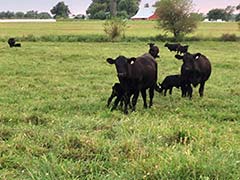 Through superior customer service and an exclusive AI and embryo transfer program we equip our customers with the tools, products and information that they need to be successful and produce a superior end product with global demand. It is not a cliché that our success is deeply rooted in our customers' success and that is not something that we take lightly.
The People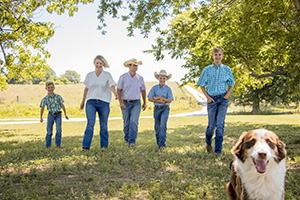 THE PEOPLE: We are high school sweethearts who aside from time away while in college have spent our entirelives in the small town of Dadeville in southwest Missouri. We are surrounded by family and feel grateful for the opportunity to raise our three boys on the farm. We are first generation Angus breeders who believe in using science and data to make informed breeding decisions.